Additional Alerts Services
---
New York Alert
NY-Alerts are short electronic messages sent by the New York State Department of Transportation (NYSDOT) via the New York State Emergency Management Office's NY-ALERT system. NY-Alerts are sent to subscribers informing them, in near real-time, of significant transportation-related incidents occurring on major highways and the greater transportation network in the state. NY-Alerts can be delivered as e-mails or as text messages to cell phones. NY-Alerts are issued only for the most serious and unexpected events that have a high degree of impact on travel. This can include incidents on highway, rail or aviation systems. NY-Alerts contain information about the nature of an incident, its location and additional important information to the traveling public. The Department updates NY-Alerts during the course of an incident, as necessary, and will inform subscribers when an incident has been cleared. NYSDOT believes that by providing the public with current and accurate information about the transportation network, the safety, reliability, and efficiency of personal and commercial travel in New York State can be enhanced. You can customize your subscription to sign up by county, by four NY-Alert categories (NYSDOT NY-Alert Road Closure, NYSDOT NY-Alert Blocked Lane, NYSDOT NY-Alert Disruption/Unexpected Delays, & NYSDOT NY-Alert Other) and by severity level.
To enroll to NY-Alerts, visit NY-ALERT Enroll.
For additional information about the NY-Alert system, see the NY-Alert site.




Email and text message alerts are now available for MTA subway, bus, commuter rail, and bridges and tunnels.
To subscribe, visit My MTA alerts.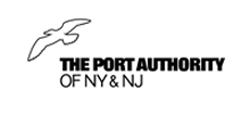 PATHAlerts, Bridge and Tunnel Alerts, and Airport Info-Alerts, are free subscription services provided by The Port Authority of NY and NJ. PATHAlerts and Bridge & Tunnel Alerts provide subscribers with cell phone, PDA, or e-mail notification of incidents or events that may impact their trip on PATH or across Port Authority bridges and tunnels. Airport Info-Alerts provides AirTrain Newark and AirTrain JFK service delays, as well as airport weather-related delays and parking lot info at JFK, NWK, and LGA airports.
Click on the links above to subscribe or click on the Port Authority logo above to visit the Web site.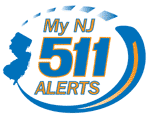 My NJ511 Alerts will notify subscribers of accidents, incidents and construction on NJ state highways, toll roads as well as bridge and tunnel crossings they choose.
To subscribe, visit My NJ511.




My Transit is NJ TRANSIT's free email alert service, delivering personalized travel information to your cell phone, handheld wireless device or email inbox. My Transit will keep you informed of delays, schedule changes, boarding adjustments and more.
To subscribe, visit NJ Transit.




MYNITTEC is a free, customized traveler information system for the Western New York and Southern Ontario region. The MYNITTEC system will notify travelers of incidents and congestion on the regional transportation system and across the international border by email and text message. Users can also choose to receive notifications for alternative routes to their normal travel patterns.
To subscribe, visit MYNITTEC.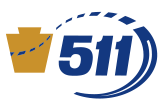 511 PA Personalized Traveler Alerts is a free service that notifies subscribers of accidents, incidents and construction on state highways and toll roads they choose. To enroll, visit 511 PA.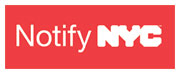 Notify NYC is the City of New York's official source for information about emergency events and important City services. What you need to know, when you need to know it. Registration is free. Those who subscribe to the service can choose to receive messages about emergency activity throughout all five boroughs by e-mail, text message, or phone. Each subscriber may choose up to five NYC zip codes about which to receive information.
To enroll, visit Notify NYC.




Get real-time updates from Clean Air NY delivered to your email or mobile device when air quality in the New York Metro area is predicted to be in the unhealthy range. Learn more about Clean Air NY.